Program Notes: I Dream a World…
I Dream a World…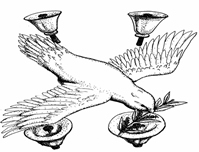 Tonight's texts, like dreams, are woven of memory, vision, and imagination. Ancient memory: Israel's flight from Egypt and David's lament for Absalom. Sketches from everyday life: the whirring song of a Brazilian sewing-loft. Reverie: Rilke's delicately amorous "Dirait-on." Visions of a mythic past, a corrupt present, a redeeming future: Delavigne's paean to the Sun-God; Blake's call to England to become the new Jerusalem; Langston Hughes' optimistic vision of peace and dignity for all. Pure imagination: Ravel's folk-like tale of a girl's adventures in the meadow, and his catalog of seductive forest-spirits; Poe's fevered evocation of terror at the chiming of the bells.
Such dreams have long inspired great music. Tomkins's anthem and the Ravel songs are choral classics; Schubert, Villa-Lobos, Saint-Saëns epitomize their musical time and place. The flow of inspiration continues into our time, indeed into this season. Our audiences may recognize several prominent contemporary American composers. We performed Lauridsen's "O Magnum" and Susa's Six Joyce Songs last year, and Susa's Carols and Lullabies in an earlier winter program. Cantabileis especially pleased to be performing Eric Ewazen's "The Bells" once more. The work was premiered in 1982 by Rebecca Scott and the Juilliard Pre-College Chorale, and was presented in New York by Cantabilein 1989. We have the privilege to present world concert premieres of two new madrigals, or part-songs, by California composer David Avshalomov. They are selections from a growing cycle comprising over 40 settings of Blake's visionary Songs of Innocence and Songs of Experience.
"I dream a world … where greed no longer saps our soul … and joy like a pearl attends the needs of all mankind." Voices unite with handbells in Conrad Susa's festival setting, commissioned in 1991 for the American Choral Directors Association. Langston Hughes conceived the text in 1943 as an aria for Troubled Island, an opera about the Haitian revolution, which he created in collaboration with composer William Grant Still. Despite the initial encouragement of Leopold Stokowski and fundraising by Fiorello LaGuardia and Eleanor Roosevelt, the opera was never produced: City Center cited lack of funds, the Met cited the absence of qualified black singers in its company. Regardless of these setbacks, or perhaps because of them, "I Dream a World" became the finale of Hughes' poetry readings and lectures.*
"When David heard that Absalom was slain, he went up to his chamber and wept." The text (2 Samuel xviii, 33) conveys the intensely personal grief of royal father for rebel son, whose familial strife became a war between the nations of Judah and Israel. Each phrase of the lament is shared by five voices, almost unornamented but chromatically torn. The work is a perfect union of the old Renaissance European polyphonic style with the stately English cadences of the King James Bible. Thomas Tomkins's anthem was composed in a Britain riven by the hostility among established church, Catholics, and Puritans that culminated in the Civil War, a war that ended Tomkins' musical life. The anthem appeared in 1622 in his collection of madrigals and sacred works, Songs for 3,4,5, and 6 Voices. Musicologist Denis Stevens points out that the "Songs are unique among the publications of the English madrigalists in that they are dedicated individually to the composer's family and friends…," beginning with "a song dedicated 'To my dear Father Mr. Thomas Tomkins' and ending with an anthem 'To my son Nathaniel Tomkins.'" Thomas senior was also a composer, church organist and choirmaster. Son Nathaniel edited the collection Musica Deo Sacra as a memorial to his father's life's work.
Maurice Ravel, who rarely wrote songs, poured his imaginative gifts and love of language into text and music for this group of Three Songs. Like real folk songs, each is built on threes. "Nicolette" wanders into the meadow each evening, courting temptation. (At recitals, mezzo-soprano Frederica von Stade likes to introduce Nicolette as a thoroughly modern girl.) Invited by the Wolf to visit Grandmother's house, she knows enough to run away. Offered love by a cute but poor young lad, she turns home with regret. Then comes a stooped, smelly, wheezyseigneur with an offer that Nicolette cannot refuse. "Ronde (N'allez pas au bois d'Ormonde)"isalso aMoral Tale. Stay out of the woods, girls, say the old women, it's full of fauns and satyrs. Stay out, boys, say the old men, it's full of nymphs and satyresses. Darn, say the boys and girls, you've scared them all away. The central song, "Trois beaux oiseaux du Paradis." was composed first, in 1914. A woman laments her friend gone to war. Three birds of paradise fly past, bearing messages from the beloved. One by one, a tricolor of symbols: his blue-eyed gaze of loyalty; a kiss on her white brow; the crimson of heart's-blood. Ravel, himself waiting to go to war, dedicated this song to mathematician / statesman Paul Painlevé, who later served as War Minister and briefly as Prime Minister.)
Engraver William Blake of South London created "illuminated" poems that were not typeset, but rather hand-lettered, illustrated, engraved, and colored by his wife. Two volumes of "Prophecies," Songs of Innocence (1789), followed by Songs of Experience (1794), were then published together as Songs of Innocence and of Experience: Shewing the Two Contrary States of the Human Soul. "Piping Down the Valleys Wild," the Introduction to Songs of Innocence, foreshadows a complex progression of innocence to experience and beyond. The Child laughs to hear the piper's simple tune, but weeps when the tune changes to a "song about the Lamb." Hearing the tune sung by a human voice brings comfort, and the Child bids the piper "write the song for all to hear."** David Avshalomov's setting captures both the pastoral scene and the shrill captivating overtones of the pipe. The second selection, "Motto,"was written as an epigraph or title page to the combined works. The allegorical text resists easy interpretation, but its scathing indictment of hypocrites and knaves in contemporary England is clear enough. It has been set as a canon; blindly obeying the strict melodic imitations, the singers become enmeshed in cross-rhythms and sarcastic dissonances. Avshalomov, born in New York City in 1946, is the son and grandson of composer/conductors.He began composing and conducting in high school, and earned degrees in music from Harvard and the University of Washington. In 1980, he founded the Santa Monica Chamber Orchestra, which he led for a decade. He has written for solo instruments, chamber ensembles, solo voice, chorus, band, orchestra, and percussion.
Miriam's Song of Victory attains symphonic dimensions as Miriam leads the women of Israel in rejoicing. Franz Schubert's cantata centers on an aria in classic A-B-A' form: flight from Egypt, perilous sea passage, land of freedom. The text by Schubert's friend, the playwright Franz Grillparzer, is almost a melodrama: vividly imagined sea-monsters, glassy walls of the parting sea, sounds of the advancing enemy, a furious storm raised by Divine hand, Pharoah bobbing in the sea and sinking into the abyss. A victory dance introduces the story and is repeated at its close, swelling into a fugue: great is our Lord in all ages. Schubert, ill and desperately poor, created the work in early1828 for the sisters Fröhlich, who supported themselves as musicians and by taking in lodgers (including Grillparzer). Anna Fröhlich sponsored a performance the next year, shortly after Schubert's death. Critically praised,Mirjams Siegesgesang was first published 10 years later. Franz Lachner's orchestral setting in 1873 contributed to a revival of interest in Schubert's music.
Lili Boulanger's grand "Hymne au Soleil" celebrates the rebirth of the sun and the reawakening of nature. After a stately benediction, seven chargers rise from darkness: a leaping motif mounting from voice to voice. The steeds' flaming breath paints the horizon. When the Sun God appears, time seems to halt. A solo alto depicts fields and flowers bathed in rosy glow. Hearing a distant chorus salute the sun's power, the chorus repeats the benediction. This is the work of a prodigious 19-year-old composer and organist, daughter of musicians, educated in both the literature of classical antiquity and contemporary poetry.
"Within you, a self-fulfilling Narcissus basks in its own reflection, so it seems." Martin Lauridsen's setting of "Dirait-on" concludes Les chansons des roses, a song cycle based on lyrics of the French-German imagist poet Rainer Maria Rilke. Conceived as a folk-like chanson populaire, "Dirait-on" interweaves two infectiously hummable melodies introduced in the preceding songs of the cycle.
"Sewing, stitching, pleating, cutting, tacking, tucking," the working girls in "As costureiras"sing to the repetitive rhythms of their work, dreaming of future love and happiness as they make clothes for the wealthy. This sketch of everyday life in Brazil reveals one side of a multi-faceted composer. When Heitor Villa-Lobos was six, and already performing on the cello, his aunt gave him a copy of the Well-Tempered Clavier, awakening a fascination with Bach that would lead him to compose the Bachianas Brasilieras. But the young man soon fell under the influence of country folk-songs and the urban street music groups called choröes. Rather like Bártok in Hungary, this gifted classical composer traveled the country, cataloguing its musical folklore. During the '20s he lived in Paris, consorting with musicians and poets of that turbulent period. Later he returned to Brazil, and with the support of president Getúlio Vargas organized choral groups of up to 40,000 school children.
"Saltarelle" was written by Saint-Saëns for a men's singing club in foggy Le Havre, who must have loved pretending they were in the sunny Roman countryside at Carnival. Jolly melodies match the witty, almost irreverent poem by Émile Deschamps. The villagers' revelry renders old women speechless. The young curé turns a blind eye, and the Madonna in her oak tree pardons them, veiling her face when she must. Camaldule monks file out with a melancholy chant, and Carnival ends in a "rain of Lenten bulls."
A cast-metal steeple bell has a unique voice: the high pitch at the moment of striking gives way to a resonant chord that cannot quite be notated on a Western scale, before this in turn dies away to a deep long-lived hum. So a choir (carillon) of steeple bells, no matter how well tuned, sends out a confusing jumble that seems to turn even a familiar hymn inside out. On his bad days, the bells of Fordham village in the Bronx must have brought terror to the painfully sensitive ears of Edgar Allen Poe as he lay sleepless in his drafty cottage. In his famous poem "The Bells," the mood shifts, step by step, from merriment to warning, from death to mourning, on past the bounds of normal human emotion. As a young composer Eric Ewazen rose to the challenge of setting this haunting poem for chorus. He writes:
"The Bells" was written for the Juilliard Pre-College Chorus, with Rebecca Scott, conductor, in 1982. It is an important work for me, in that it was one of the first pieces I wrote upon my graduation from college that was predominantly in a tonal style. The piece showcases the harmonic vocabulary which I am still using, even today. The powerful words of Edgar Allen Poe dictated the sounds and feel of the music. The words and consequently musical gestures, proceed from gentle, ethereal bell sounds, to rich, resonant golden bell sounds, to awesome alarm bells to massive iron bells. The words are hypnotic, and the music uses ostinato repetitions to underlie sweeping lines which carry the emotions of the music forward. I am grateful to Cantabile for performing my piece again for you today. They introduced the work on a tour of England in 1989, following a performance they gave of the piece in New York City's Merkin Concert Hall in February of that year. My thanks also to my dear friend and colleague, Rebecca Scott, for whom I have written the vast majority of my vocal works (solo and choral) over the years.
***
* Hughes' optimism was tempered with a sense of struggle. In 1944 a reporter for the New Brunswick Home News asked Hughes whether, after the war, skin color would again be used against black people. Possibly, but not necessarily, he replied: "We have a fight on our hands if we are to preserve democracy. I do believe we are going to preserve and extend it." [From The Life of Langston Hughes, vol II: I Dream a World, by former Rutgers professor Arnold Rampersad.]
** This summary draws on the fuller interpretation by Joseph Natoli in Critical Survey of Poetry, Revised ed. (Salem Press)