2013-2014 Season
We are excited to be presenting our 26th season celebrating composers and music which draw upon our rich, diverse repertoire while continuing to celebrate our commitment to perform new and underperformed music.
Our Next Performance
BRIDGES
April 26, 2014

Cantabile continues the second half of the 2013-2014 season with "BRIDGES", a concert of works to showcase the themes of innovation, diversity, and liberty in celebration of the Sesquarcentennial (350th) anniversary of the State of New Jersey.  
This celebration of choral music that has its sources in New Jersey will feature classical, pop, ethnic, sacred, and contemporary selections.   The concert's title "BRIDGES", underscores the wide range of music that has its connections and roots in New Jersey for the past 350 years. For example, we highlight the innovation of musical dissonance found in Charles Ives's setting of Psalm 100.  During his tenure as organist at the Old First Presbyterian Church in Bloomfield he surely would have had song services with his setting of Psalm 100 which we will perform on this program.  New Jersey's extraordinary cultural diversity is reflected in our selections representing songs from the African American, Chinese, Czech, Hungarian, Irish, and Lenape cultures.  We salute New Jersey's pivotal role in the American Revolution and its commitment to liberty through Ruth Scott Clark's Tend Them Well, a memorial hymn to the Revolutionary soldiers and Robert Page's stirring arrangement of America The Beautiful.
We'll be joined by select members of the Middletown South High School Choir as we commemorate New Jersey's sesquarcentennial in song.

Saturday, April 26, 2014 at 7:30 pm
Christ United Methodist Church
485 Hoes Lane, Piscataway, NJ
AN EVENING OF MUSIC BY ERIC EWAZEN
The Juilliard School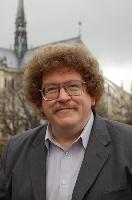 We're leading off our 26th season with an appearance at The Juilliard School on Oct. 26, 2013 where we will perform our most recent commissioned piece, "Second April" by Eric Ewazen. Other performers featured on this all-Ewazen program are pianist Maria Rojas and duo-pianists Eleanor Nelson and Karen Baer.
Saturday, October 26, 2013 at 6:00 pm
The Juilliard School
60 Lincoln Center Plaza, New York, NY
(pictured: Eric Ewazen)
Harmony of Two Cultures
December 7, 2013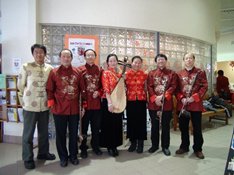 Cantabile is joined by special guest artists Zizhu Ensemble who will perform their traditional Chinese instruments and music. The program will include works by Benjamin Britten, W.A. Mozart, Eric Whitacre, Chen Yi, and CHIEN, Nan-Chang.


Saturday, December 7, 2013 at 7:30 pm
Christ United Methodist Church
485 Hoes Lane, Piscataway, NJ
More Information Purchase Tickets
(pictured: Zizhu Ensemble)